Hiya folks! Happy Saturday and a happy one it is! I already feel so accomplished and it is 11:30 am here in semi-sunny CA. I am glad that the rain has subsided for a bit. This week has had some heavy rain (in CA standards) that I have had to do a lot of driving in. Its nice that the weather outside is beautiful; not too hot and not too cold. It is just right!
So it is Saturday and it is time for another Happy List over at Dandelion Wishes. If you are happy (and you should be) then go link up!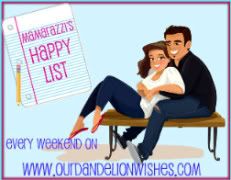 I am happy that I woke up early this morning (8:30 am on a weekend is not easy for me) and hit up the gym to do Zumba. (Even if it wasnt the right zumba instructor and she kinda sucked).
I am happy that I am getting the opportunity to dance all the time and it counts as exercising.
I am happy that I have been doing pretty well at not spending friviously. I mean sure I would love to go buy me a pair of shoes or some clothes but I need to work on saving and having better money skills. I have been doing good thus far.
I am happy that my original game and drinking night got cancelled last night because we got to go over to our favorite couple's house. There were 3 of us couples and we went out to Ihop (I was good and had a ham& cheese omlete with eggs substitute with fruit) then we came back and played Loaded Questions adult (I was having extraordinary luck at this game and guessing everyone right)
I am happy that I have the house to myself and I can lay here and just catch up on blogs and take a little nap.
This would be nice too... But Ill take my couch
I am happy that I have been able to turn off work during the weekend. At my last jobs I wasnt ever able to leave work and stress during work hours. I would stress all the time at night and over the weekend. My stress level and happiness has changed remarkably with my current job.
Finally I am happy that I am once again going out to LA to a lounge/club to dance the night away with friends and Kevin. I LOVE dancing (if you havent already figured that out.
What are you happy for this lovely weekend?