Hey folks!! How are you all doing on this lovely Saturday? I am super excited for today. Its a gorgeous day here in
sunny
overcast CA and Im having a semi-lazy afternoon (I did clean the house a bit so its not fully lazy).
I decided I wanted to participate in the Happy List over at Dandelion Wishes since there are so many things to be happy for this week.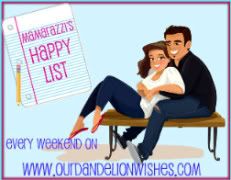 I am happy that I finally got to celebrate St Patty's day the right way! I havent drank on St Patty's day since I graduated college.
I am happy that my jello shots were a big hit. Margarita flavored jello shots for the win. I will even share the recipe.
Ingredients: lime jello, tequila (preferibly silver), triple sec, and a lime.
Recipe: Boil 1 cup of water and pour it in a bowl with the lime jello. Stir until it is pure liquid.
Add 6 oz of tequila and 4 oz of triple sec (do more or less depending on how lethal you like)
Put into a caserole dish or if you are meticulous pour into little plastic dishes. Then refrigerate
I am happy that it was a great week
I am happy that I made my Febuary goal and will be getting my full comission on April 15
I am happy that Im lucky to have a great job where I make a good salary so that when I get my quarterly comissions and bonuses they can go straight into savings.
I am happy that I am going to go out dancing tonight with a fun group of guys and gals. We are going to dance until the world ends because Brittany says to
I am happy that Kevin's mom gave us her king sized bed frame for free now we only have to get the mattress
Maybe this will be the next step?
Source
I am happy that I was domesticated on Thursday and cleaned the whole house and that Ive been good at cooking dinner.
I am happy that I made the best chilli of my life. It was mexican style chilli and the sauce tasted like Sopa.
I am happy that I have wonderful friends and that they make me feel loved.
I am happy that we booked our vacation for SF from April 7-12th and got an amazing deal. 2 round trip tickets on Virgin (its the only airline kevin will fly) and 5 nights at a nice hotel in Union Square for $736. That is $368/person for a 6 day vacation. :)
I am happy that people have already started giving us food recommendations and activities to do for our vacation. If you know of any great restaurants let me know!
Are you happy today? Go link up and tell us why!!