Hello!! I hope that your weekends were fantastic. Mine was boring but relaxing.
My weekend was so dull and uneventful in fact that I was actually having a difficult time coming up with something to blog about (as Mondays are suppose to be Weekend recap days). Well, being the ditz that I am, I ended up having a fun adventure at work that I could share with you lovely readers :).
A couple of disclaimers about myself to put this in better perspective:
1) I am a true Southern Californian so I never dress for the weather and 85% of the year I don't have a jacket with me at all.
2)I have no idea of how to look at the sky and predict that rain will be coming because as noted in point 1, where I am from we don't have rain too often.
3) I am pretty addicted to Starbucks and will walk 1 mile in 3.5 inch heels to get my Starbucks if the craving hits.
4) I am stubborn and usually will not ask for help.
Ok so today it has been a bit overcast but the sun is still shining through. Around 11 am I figured that it was a good time to walk over to Starbucks to grab my regular, Grande Chi Latte and a plain bagel with cream cheese. Keep in mind that I am wearing black capris,a short sleeve shirt, and 3.5 inch heels. I look outside and the weather is great. I am very excited, just to be getting some time away from my desk by taking a walk down to Starbucks.
Everything went as planned until as I am leaving Starbucks to walk back to my office it begins raining pretty hard, well pretty hard in Californian standards. My first thought was to walk inside and call the office to have someone come pick me up but of course that would make things too simple for me. Instead, I decide to be stubborn and walk the 1/2 mile back to the office.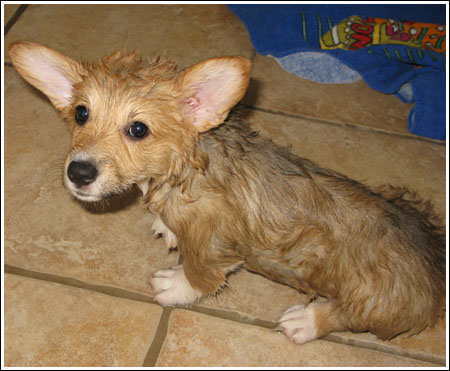 I looked like a wet puppy by the time I got back and I was so cold that borrowed a co-workers jacket to warm back up. I have learned a few lessons from this.
1)Always have a jacket on hand if the skies are a bit overcast.
2) Don't be stubborn, just call for help so that you don't have to ruin your make-up and hair.
3) Starbucks is worth all of that trouble. It was so yummy:)
Do you have any addictions that you would sacrifice your comfort for?
Happy Monday!