Hola!! Its Thursday and that means its time for some Sports from a Girl's POV or really some NFL week 2 recaps and week 3 predictions. I did a very good job with last weeks predictions so lets see if I can keep it up!
Game Recaps:
Wow I did a good job with my predictions last week overall... Lets reflect back on those first
"Colts vs. Giants.The battle of the brothers. I love a little family rilvary... I'll pick the Colts to win"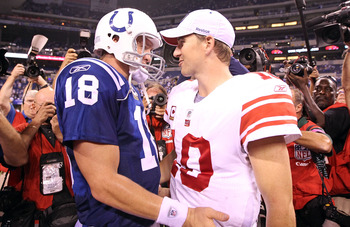 Well did they ever win?!?! Seriously the Colts spanked the Giants like there was no tomorrow. It wasn't even a football game, it was a slaughtering. Maybe the Manning brothers got into a fight before the game and Peyton rallied his team to just kill the Giants. All I know was that the final score was 38-14 and that my friends is what we call a Blowout.
"Ravens vs. Bengals... I'll pick the Ravens to win but it is going to be a super tight game"
Well I wasn't right about the outcome (Bengals actually won 15-10) but I was right that it was a super tight game. It came down to the final minutes of the game. Both teams looked really good which was to be expected. These are some of the better quality teams in the AFC
San Diego Chargers vs. Jacksonville Jaguars (38-13)
Tolbert after 1 of his 2 rushing TD
Yet another spanking. This one seriously was no contest either. I mean the score actually makes it seem closer than what the game portrayed. The Chargers were just back in fine form. Rivers looked exceptional and he was finally communicating with his recievers while getting protection from his line. Ryan Matthews (RB) looked good until he got injured but the key to the running game was actually Tolbert who was a beast! Gates was phenomal (like always) and our defense was actually playing. I am glad to see my boys back.
Some More Blow-Outs & Surprises
There were actually a couple of blowouts this weekend. Quite suprising. We had Atlanta slaughtering Arizona 41-7. Packers kicked the Bulls ass but thats not a huge suprise (34-7).
A couple of games this weekend shocked me as well.
The Raiders actually won? Well I mean they were playing the Rams though so it wasn't super suprising I guess. And I guess that can be one of the 6 wins for the season ( ;P lol sorry Bananas)
Detroit kept it very close with the Eagles.... Do the Eagles just suck or are the Lions becoming a good team?
Minnesota has started the season 0-2 with this week's loss to the Dolphins. Do you think they will get it together and turn it around or will it just be a bad season for them? I think they will win the next 6 in a row.
Best Game of Week 2: New England Patriots at New York Jets (14-28)
Of course I will stand by and say the Chargers game was the best one of the week but I will probably think that every week. This game was weird for me because I was rooting for the Pats. I hate hate the Pats but I guess I just had to choose the lesser of the two evils.
It was a hard fought game with both teams just playing really great offense. Sanchez threw some great passes and had 3 touchdowns for the game, Tomlinson actually looked pretty good but it most likely won't last, and their overall running game looked good. UGH!! I hate the Jets so I hate admitting that they looked really good but they did.
The Pats looked really good in the first half and Brady still had a great game but they just couldnt get on the same page in the second half and rally back. They had their chances but they let it slip away from them...
Predictions and Games to Watch: Week 3
Detroit vs. Minnesota: I said the Vikings will win their next 6 and I stick by that but I think once again the Lions will shock and keep it close. They will lose by no more than a touchdown.
SF vs. KC: I think the Chiefs will get their first loss of the season here. The Cheifs aren't good enough to keep winning and SF almost beat the Saints this past weekend.
NYJ vs. Miami Dolphins: I think this will be a hard fought game and I am hoping the Dolphins win this one. I will predict they do especially since they are coming off a win over the Vikings and will be at home.
Game to Watch: Wow none of the games look like they will be exceptional this week. Hmm Ill say that Atlanta Falcons vs. NO Saints should be good if Atlanta keeps playing well...
Well thats all for sports :) What about you? Did anything shock you last weekend? Do you have any predictions of your own.
Day 13: A Letter to Someone Who has Hurt you Recently
Dear Aimee:
Stop being so damn hard on yourself. You have to enjoy life more and stop thinking only about negatives all the time. Chin up and move on. Allow yourself to be fully happy, let down your guard, and enjoy life. You are your own worst enemy. Let go of the past and the high expectations and just start being who you want to be.
Love,
You
Yep I have hurt myself the most recently... Don't really have anyone else I feel I need to tell off.
Hope you have a very Happy Thursday!