Hiya Folks!! Sorry that I have been very sporadic about checking blogger and posting entries. Life has been a bit rough in the work department (meaning I hate my job and I am seeking a new position). I miss blogger dearly, it kinda keeps me sane and I feel like I am "behind on your lives"... That makes me a creeper eh?
Oh well lets focus on some Friday Odd News Stories... :)
Sexy Cereal
Congratualations you Win!!!.........NOT
A big mistake was maIde on Australia's Next Top Model when a judge announced the wrong person as the winner. Pciture this... 2 girls are waiting to hear the announcement that will "change their life" and then the Judge says "Congrats Girl B you win.......Just kidding it was actually Girl A". The girl who was first announced as the winner did her whole "Im so happy to be a winner" speech and then ws notified that they made a huge error. I can't even imagine what that feels like.
In Boston firefighters have recieved donations of small oxygen masks for pets. They will store these on their firetrucks for when they respond to fires... I think this is actually a good idea BUT I crack up everytime I imagine what a little puppy or cat would look like wearing an oxygen mask.
This guy won $1 million dollars from a scratcher not once but twice. Those odds are pretty ridiculous! Man maybe I need to start playing some form of the lotto. This guy is just super lucky, he said he dreamt he would win so he bought the ticket.
Weekend Forecast
Friday: Tonight I am going to Halloween Horror Nights @ Universal Studios with a group of chick friends. I am so scared guys. I am pretty good with most things popping out at me and everything (sure I get startled but it doesn't scare the beejezus out of me)... However, I am deathly and I mean deathly afraid of Chainsaws. The sound itself can make me scream. But I know I am going to have a ton of fun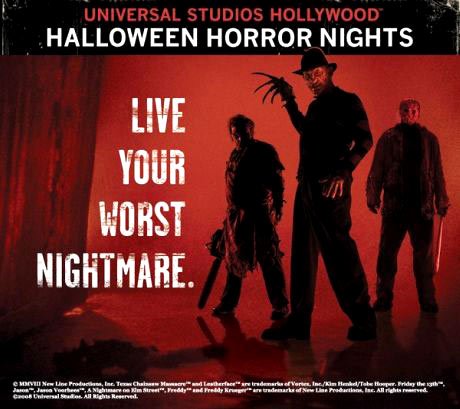 Then I am spending the night at my friend, Kelsey's, house.
Saturday: Kelsey and I are going down to San Diego for the rest of the weekend. We are getting there in the afternoon and will probably spend the day by the pool or at Horton Plaza (the shopping mall there). We are staying at The W Hotel in Downtown SD. I picked this place because of the rooftop pool/"beach area".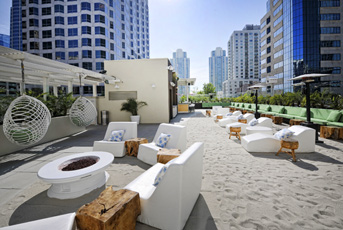 This is their beach area with fire puts and their pool is right next to this as well.
That night we will probably eat at a little pub or somewhere in the gaslamp then hit up the bars and clubs and hopefully stumble happily back to our room around 2 am.
Sunday: I am hoping to chill by the pool and maybe get some yummy drinks from the bar before we head back home to reality. I doubt I will be watching football games this day but you may never know.
That night I am taking Kevin out for a late celebration of his birthday.
All in all I have a fantastic weekend planned that I have been looking forward to. I hope you all have great weekends as well.